FolderGrid FolderSync
What is FolderSync?
---
FolderSync is an application that installs on a user workstation and runs in the background and offers the user two different benefits:
The ability to use "Open Local" from the WebApp to open a document using their locally installed applications (Word, Powerpoint, etc...) where any saves of that document will be automatically and transparently saved back to FolderGrid. This is a huge time saver versus the default where the user needs to download the doc, open it, save changes, then re-upload the new version.
Optionally FolderSync can also be used to keep a local copy of one or more folders on the user workstation and keep it in sync with the remote folder on FolderGrid. This is useful for folks who want to continue to work on a set of documents offline and then have those changes sync up to FolderGrid when they are back online.
Install FolderSync to support local manipulation of your secured content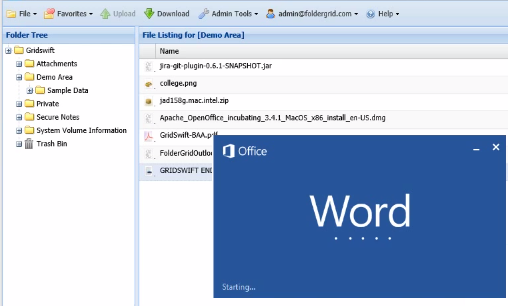 Detailed Description
---
FolderSync runs on your workstation (desktop or laptop) to support easy content management & collaboration using your preferred applications. With FolderSync, you can open & edit secured content directly from your web browser using your locally installed applications such as Microsoft Word, Excel, PowerPoint, Keynote etc...
Edit files directly from your browser
Supports direct editing of your files in Microsoft Word, Excel, PowerPoint, Keynote etc...
Saves your changes directly to your secured domain
Runs on all major systems (Windows, Mac, Linux)
Bi-directional sync for any number of individual folders of your choosing
Freely Available for any user!
Once installed, FolderSync enables the "Open Locally" option within our WebApp which will automatically open a secured file with your local editor. Any changes you make will be automatically secured on your FolderGrid domain.
FolderSync also supports maintaining a local copy of your secured content for easy offline access. This feature is useful for laptops & mobile devices that may at times be disconnected from the internet. You can make changes to these local copies of secured files in your synchronized folder and your changes will be synchronized with your FolderGrid domain once internet connectivity is restored.